Was youtube surfing last week and came across these clips from a "Radiohead from the Basement" session, thus renewing my love of Radiohead. Some nice bass face from Colin, like you could taste the genius. I saw them once from the nosebleeds of the ACC and even as twitchy distant figures, they were mesmerizing.
Full session available here.
Also multitasking on Jools….
Now I'm wondering where Robin is…a felt doll I made circa 2000 based on the paranoid android video.  Where you at, Robin?! ~ Lurgs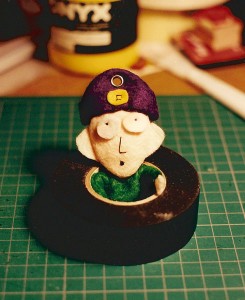 Tags: live from the basement, radiohead