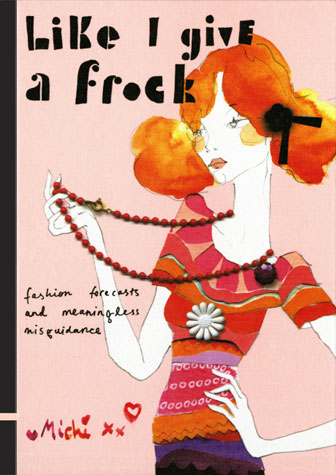 I like pretty things and have wondering eyes, so when I was over at my sister-in-law's one night, I spied a very nice looking book and naturally, I started flipping through it. I COULDN'T STOP READING IT. I laughed out loud at many parts, my eyes got big at the beautiful pictures, and I kept saying "I'm going to buy this". This book is so good, it made me almost anti-social. You see, I was over for a games night, and I placed the book conveniently by my side so I could go through it when it wasn't my turn. I know, right? That's a bit wrong.
Well, as you can see, since I put the picture first, the book is called "Like I Give a Frock". The fabulous imaginary friend brought to life by Chloe Quigley and Daniel Pollock and beautifully illustrated  by Kat Macleod. Michi is quite the character, full of helpful little tidbits and opinions. She says some pretty funny stuff, mainly about fashion, sometimes about the weather.  And although I don't necessarily share all her likes and dislikes, I do see the truth in what she's offering. She also has a lovely website here.
I think the best thing about Michi is that she appreciates fashion but also questions & pokes fun at it. Which, in my opinion, is what it should be all about!
I just love how this book is laid out into the 4 seasons. And in addition to the amazing drawings, there's also some crafty collage, mixed media bits that make it so eye-candy-wonderful that as I'm typing this, I've paused,  flipped through it, then kind of "ooh'd and aah'd" in my head. This book is really a sexy and pretty piece of art. Back and front is printed onto this cloth-like material that really suits the aesthetic of the book.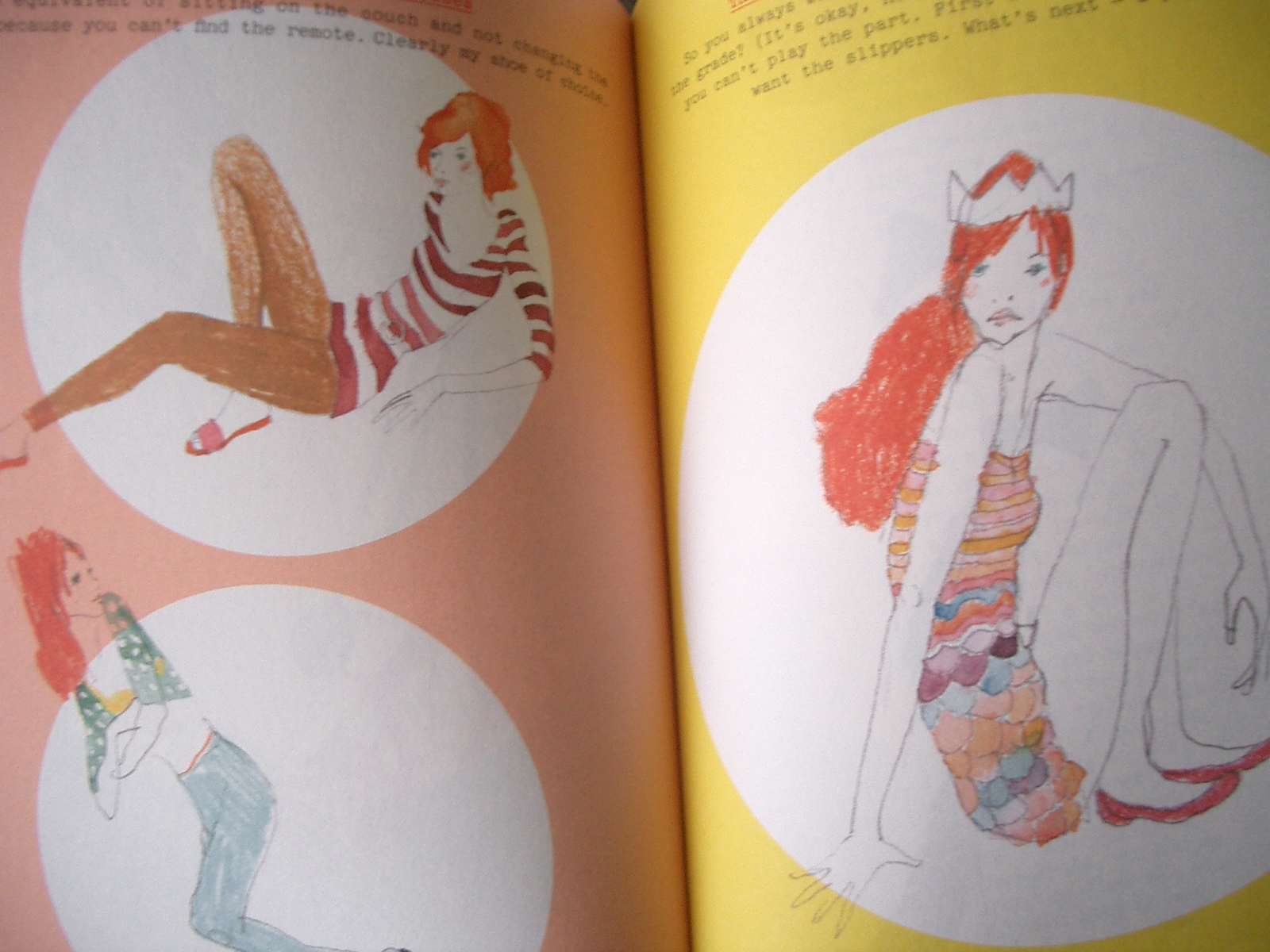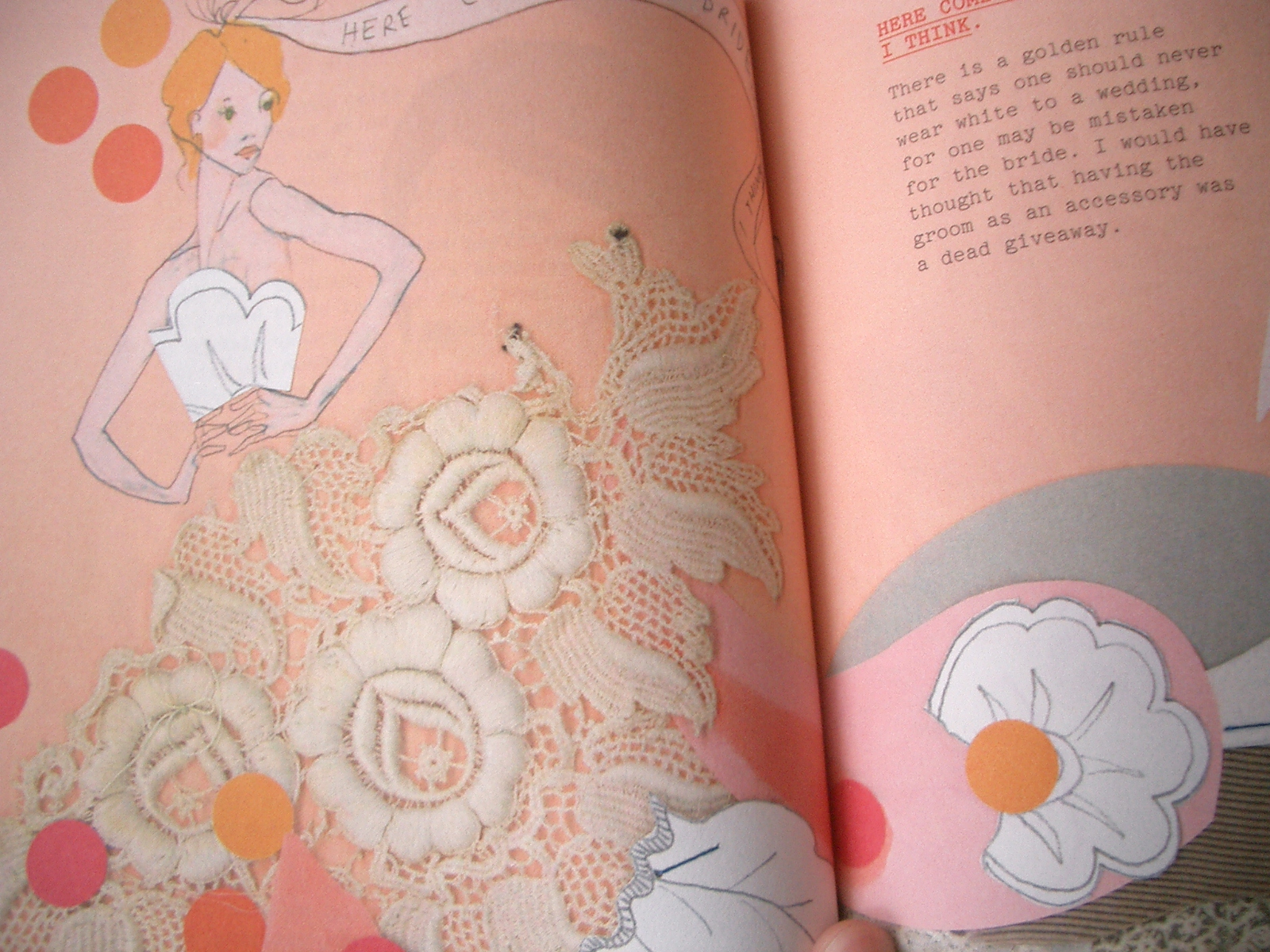 There are too many favourite bits for me in this book. But here's a couple that I enjoy:
"There's no such thing as the 'new black'" – Darth Vader
"to blouse. verb. The act of trying on clothes that you have absolutely no intention (or means) of purchasing; 'I'd love to purchase this beautiful Miu Miu top but unfortunately I left my car in my car, which is currently on my boat. So today I'm just blousing thank you.' "
Word on the street is, you can get this at Anthropologie. But I just got mine on good ol' Amazon. Please support this wonderful book!
~yy
Tags: book, fashion, like i give a frock, michi girl