Not only is Paul the World Cup predicting Octopus good at calling the winning team….but he can get you free shots!
Last night I had a delicious Summerlicious meal at Nyood at Queen & Dovercourt.  With the great summer weather, the front was wide open and it was a cool and spacious spot to lounge and enjoy dinner. I had the Lamb Fougasse Flatbread, Panko Crusted Striploin and the Hazelnut Chocolate Tart, which were all very tasty. I regret not taking picts of these as I was too busy savouring them in my mouth.
The service was both attentive and helpful. When we asked about the results for the Germany – Uruguay match, we also got into a discussion about Paul the Octopus whom one of our servers had not heard about and thought we were joking. He got us the final score and someone set him straight about the octopus, so we were rewarded with delicious shots of Chambord and pineapple juice. In return, we gave him a Paul button. Thanks Nyood!
So Cheers to Paul the Octopus! and Cheers to España for their win today!
~ Lurgs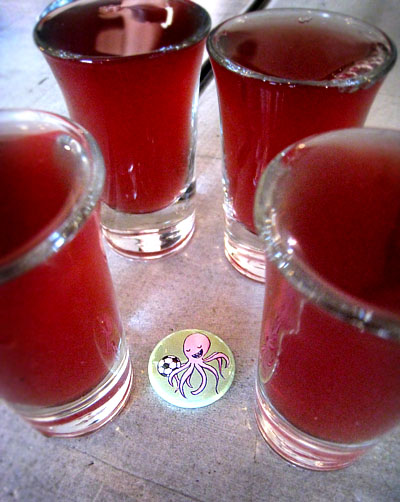 For Spanish edition buttons, check out cunning&crafty! ¡Viva España!
Tags: Nyood, paul the octopus, summerlicious, Toronto Restaurants