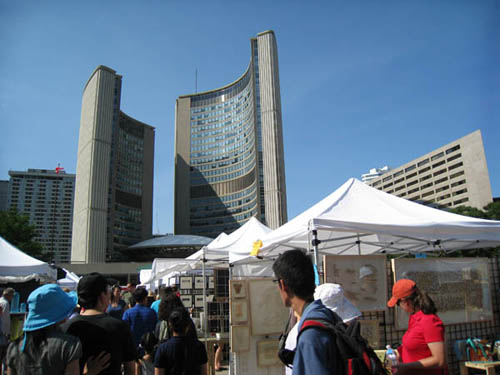 The Toronto Outdoor Art Exhibition is a yearly summer event that takes place at Nathan Phillips Square. It features artists from a variety of disciplines from painting, drawings, print, photography, sculpture, jewelry, glass work, crafts, crazy sock creatures, you name it! I only had a chance this year to quickly run through the square, so here are a few artists that caught my eye. It's great to discovery all this inspiration and talent.

AT.AW.
First thing I was drawn to was this guy sitting proudly by a painting.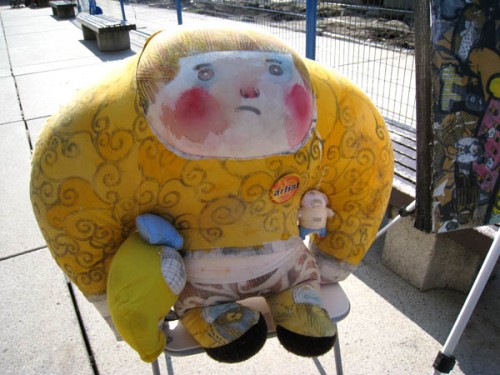 This is the work of art collective AT.AW. who "actively promote urban play with DIY mass-produced series of artwork". I love the textures and patterns in their painted pieces and their Orphans Plush are awesome! I picked myself up one of their cute little Twee Trees figures and felt bad for the ones that had fallen beyond the fence into the construction zone. Hopefully they were all recovered at the end of the show.
AT.AW. will be at the Big On Bloor Festival this weekend and the Queen West Art Crawl at Trinity Bellwoods on Sept. 18 & 19th. Also the Orphans Plush are available at various Toronto locales and soon on their etsy site.

Shannon Gerard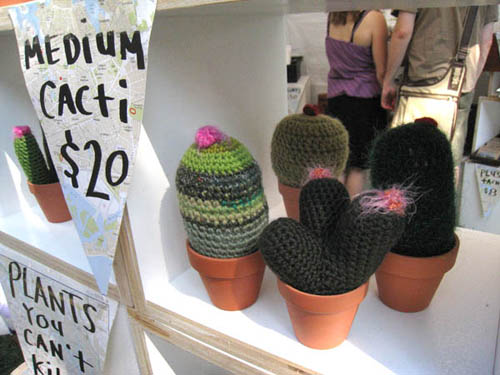 I saw Shannon Gerard's cacti and thought "how clever!! perfect for the horticulturally challenged". Not only is Shannon a crochet master, but a wonderful illustrator as you can see from her booklets. She's also the illustrator for the  graphic novel "Sword of Mouth" and the creator for her own series "Hung". You can get your own plushtache or another goody at her etsy shop.

Shuyu Lu
The Best in Fibre award this year went to Shuyu Lu. Her use of print and embroidery is very creative and I like her use of a kind of old technique in embroidery and nostalgic imagery combined with a modern aesthetic. The layering of the print and stitching also gives a great feeling of dimension.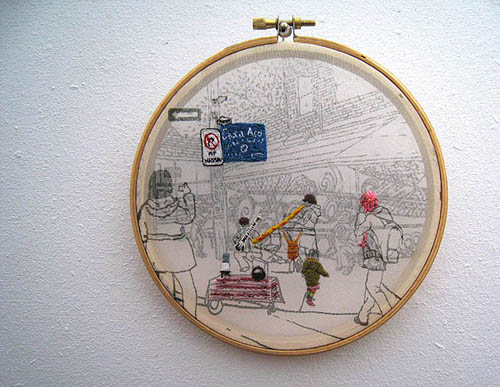 Thanks to everyone for allowing me to share their work here! Sorry I couldn't get to all the great artists featured at the show. ~ Lurgs
Tags: AT.AW., Crochet Cacti, Orphans Plush, Shannon Gerard, Shuyu Lu, Toronto Outdoor Art Exhibition