The lure of a swag bag couldn't keep these girls from sleeping in on a Saturday morning…we staked out at Starbucks across the road to scope out the #s before we made our way over. It was hilarious to watch people come into Starbucks and also make their own observations about the lineup and when to lineup. Lurgs could've easily been #1! But it really made no difference as long as we were 2 of the 100.
Unfortunately with my luck, I did not get one of the lucky random bags with the extra surprises in them that I read on their blog. Boooo! But I love love the sturdy canvas screenprinted bag and am using it right now as I type.
We spent a good amount of time over at Denture Thief Productions, one of our local favs (see: here). She has new cameo pins with all one of a kind characters. Swoon! No wonder we didn't make progress beyond her table for a good while. When I have more $ to spare, I'm going to buy one of her embroidered artworks. Love!
50 vendors had their wares for sale. I love the Theatre Gallery's set up. There were about 7 vendors when you first walked in from the main street, then you walked into an entrance way leading to the upstairs of the theatre space, where you then went down the stairs to the remaining vendors. Real cozy and intimate handmade haven.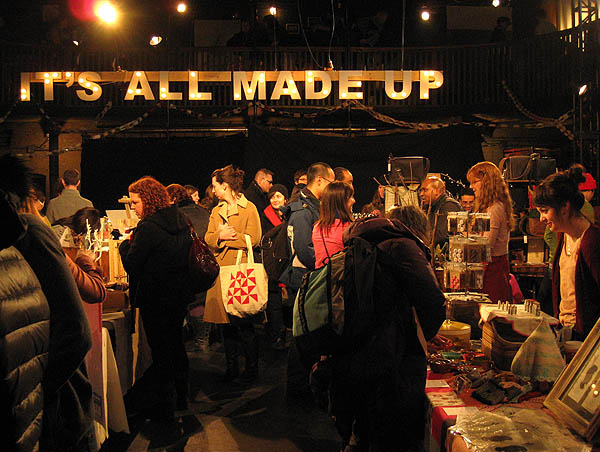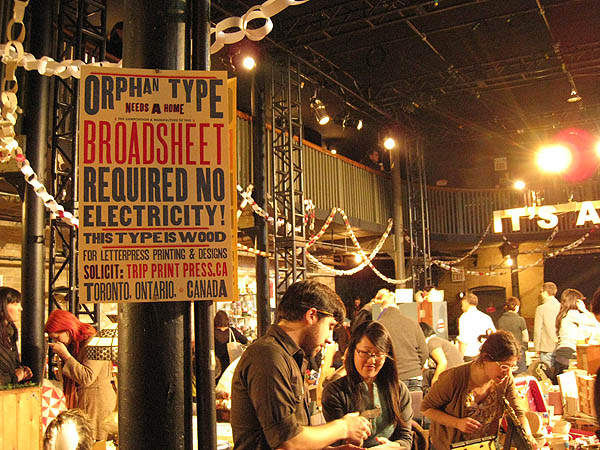 Just to highlight a few of my(our) favs. Bespoke Uprising does beautiful hand printed textile goods. We were in love with her Burlesque teatowels, even more so when she told us she used to work at a Burlesque place so they were a bit of a tribute to that time! I couldn't think of anybody who would appreciate tea towels with this design, so I'm going to have to eventually buy these for myself. At least she sells them on her Etsy shop so I know it's not the end of the world that I missed out on buying them.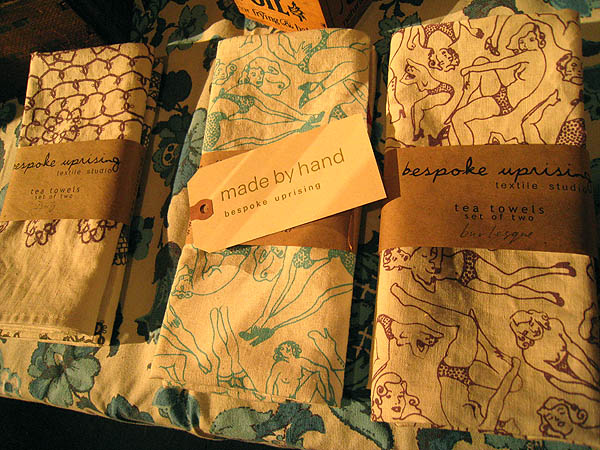 Beside Herself had these fantastic wooden switchblades that had working parts. Well, obviously couldn't cut, but the blade came out. The bigger versions had different painted designs, while the necklace ones were smaller and etched. Unfortunately, they didn't have the necklace versions on hand that day, but I shall get my grubby mitts on of them one day! Etsy shop here.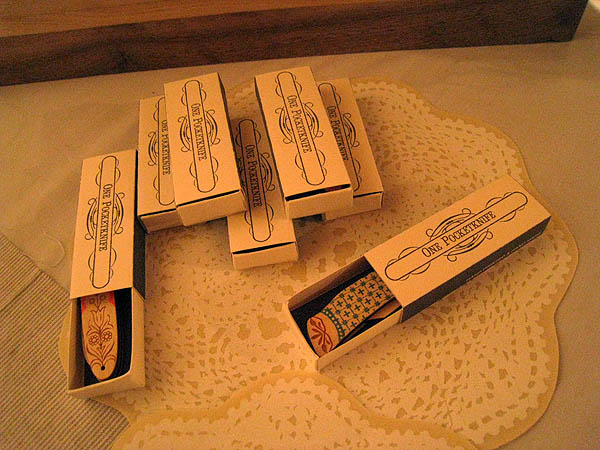 Petit Flaneur sells hand-crafted children's products (mobiles, clocks, pins, earrings etc.). Aren't those wooden tags in the pic below amazing and beautiful? The photos don't really do them justice. I think these were a hot item that weekend. I snapped up a set for my friend's newborn. They're made with non-toxic paint! I also scored a sweet quirky radish pin (her last one)! Such a lovely lady who also had the cutest little helpers that day.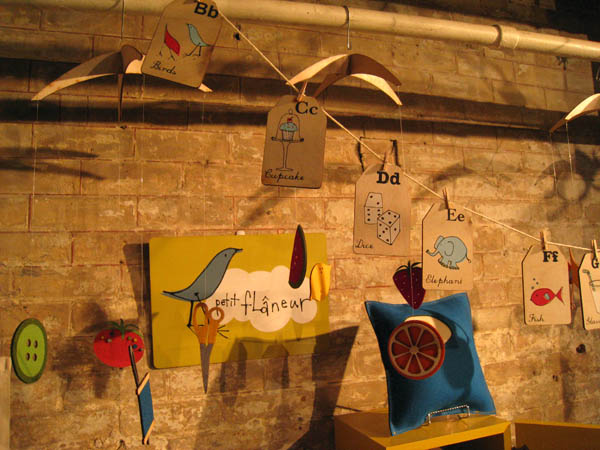 I have been a fan of Pin Pals ever since I saw their sweet goods in a shop in Montreal. I love cross stitch things, so their stuff was right up my alley. Lucky for me and you, they also have an Etsy shop where you can snap up their lovely work. If you're in Toronto, they also sell their goods at Magic Pony.  The girls at Pin Pals craft all sorts of neat things like cross-stitched earrings, pins, , barrettes, necklaces, buttons, paper puppets with fun characters like "Minou Mondain", stuffed dolls, cards…Wow! I was really smitten by the dolls. They had the coolest lace stockings designed on them.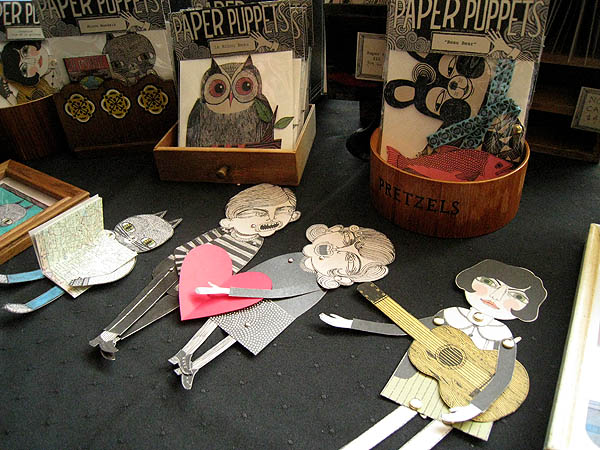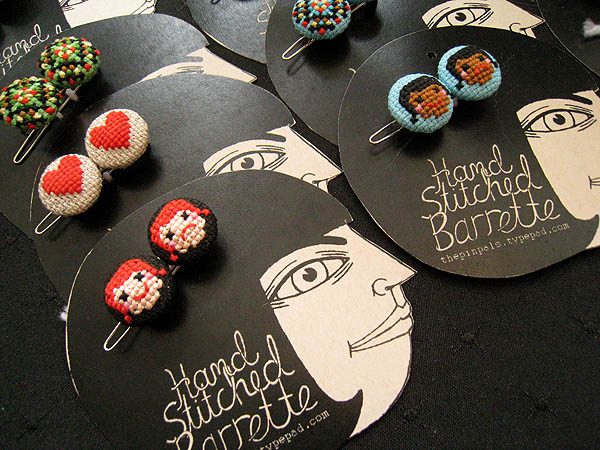 My favourite magazine, Frankie, all the ways from Australia, showcased LOCAL talent (yay!) Lee Meszaros' amazing merit badges and THIS is how I first heard of her. Then I think the "cat was out of the bag" (hahaha…) and from then on she was in a bit of treasuries and making Etsy FP. Full of idioms, wonderful artwork and careful stitching, these are truly handcrafted items! Now you can actually wear what you are proudly for the world to see. Reward someone you know for "being the best thing since sliced bread" or "making lemons out of lemonade" (amongst many things). Shop here.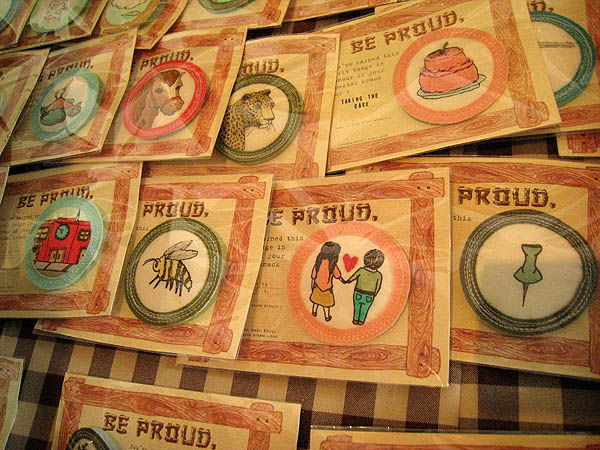 It was a fun day out full of cool finds and inspiration. Sorry we couldn't feature all the fine crafters who were present. Thanks to the City of Craft organizers and their hard work!
~ YY